La Orphica Monastrell Iluminada 2021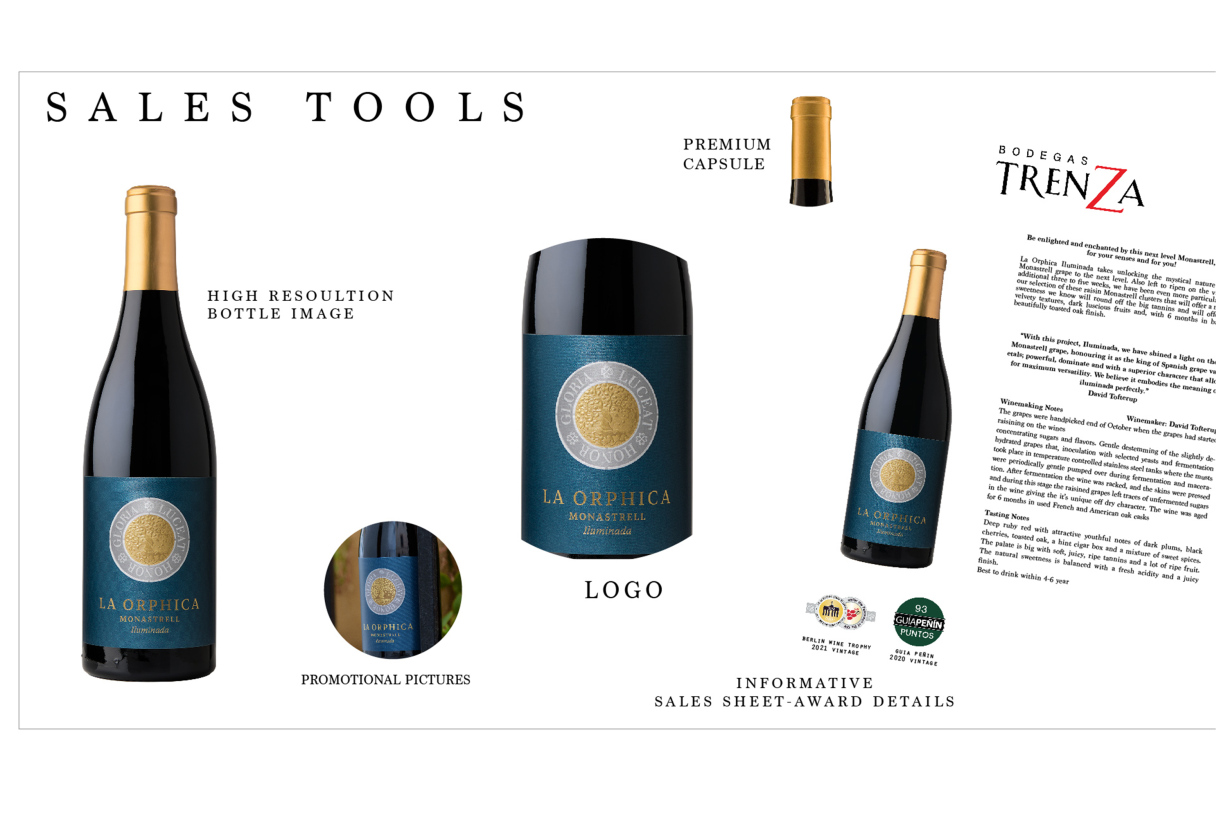 Let Bodegas Trenza help your sales succeed with La Orphica Iluminada!
Bodegas Trenza has created this very important section of our webpage for the hard working Sales Forces out there, dedicated to introducing La Orphica Monastrell-Iluminada to the World. Without them, this intense, power-house of a wine would never reach the public. When telling the story of La Orphica Monastrell-Iluminada, it is always important to remember the THREE KEY TALKING POINTS:

I. ILUMINADA : This term can be defined as a person who believe they are in possession of the absolute truth. We believe that we have found this truth in the late harvested Monastrell and our Iluminada highlights the secrets to this bold native grape varietal. A combination between old- low yielding vineyards, late harvested-sun kissed grapes and delicate ageing unlocks an enchanting new style for the Monastrell

II. QUALITY CLUSTERS: Like our Seleccion Tardia, the Monastrell grape clusters are left hanging on the vines until late in the harvesting season (last week of October and early November). The clusters for Iluminada are the very last that we bring in. The additional time hanging on the vines and exposure to the additional days of intense sunshine creates a natural dehydration of these beautifully healthy grapes. The raisin effect increases the concentration of sugar, flavours and acidity changing the typical tasting characteristics of the Monastrell into a gentle, jammy velvety experience. With approximately 10 months ageing in seasoned oak barrels the Iluminada has a great integration of oak that has a nice complexity of layers to be discovered and enjoyed.

III. BALANCE: Why do we offer this wine as a Vino Varietal -Wine of Spain, is a question we get often. The answer is simple BALANCE. In order to get the perfect balance with this style we need to play with a blend that is coming from lower altitude - warm climate and early ripening fruit combined together with higher altitude slightly cooler climate and later ripening fruits. The origins of each grape source offers to us a variety of complex structures within the fruit and uniquely different characteristics that when blended together, we have found it to be an outstanding result in perfect balance. We have thus decided not to limit ourself and our creativity.

We thank you Sales Force and we hope to make all your jobs a little easier by provided you with all you will need to be more successful. Included in this section you have downloadable logos, product specification sheets, bottle images and POS merchandise. We will continue to update this section with new material, so do not be a stranger to us!

Please remember is a place for you, so if you have any suggestion as to what could be of more help in your market, please feel free to contact us at bodegas@bodegastrenza.com
See you in the Market!
Downloadable files
Product Specifications
Product Picture
Logo
Awards and Announcements