Realizado Monastrell 2020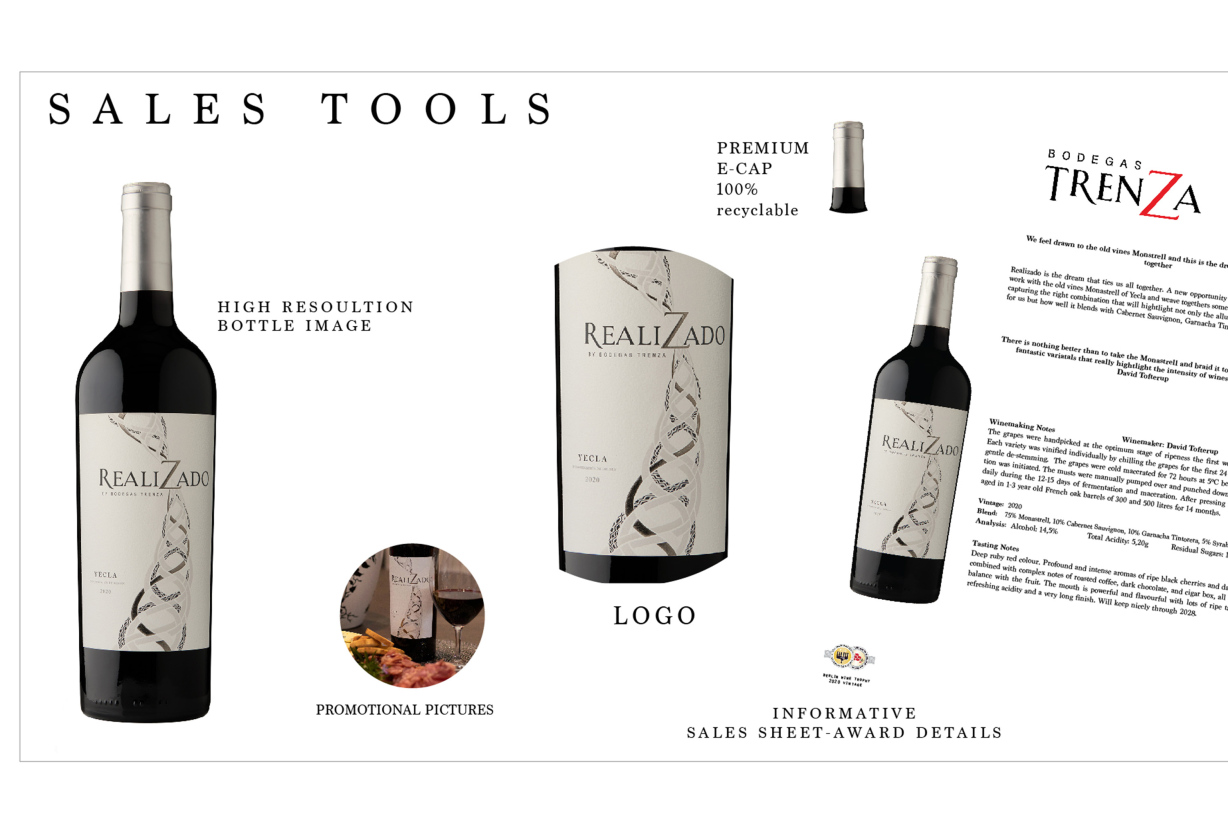 Let Bodegas Trenza help your sales succeed with Trenza Family Collection!
Bodegas Trenza has created this very important section of our webpage for the hard working Sales Force out there who are dedicated to introducing Realizado to the World. Without them, this delicious wine would never reach the public. When telling the story of Realizado , it is always important to remember the THREE KEY TALKING POINTS:

I. MONASTRELL BLEND: Realizado is all about the braiding together of 4 delicious grape varieties. Monastrell is large and in charge making up 75% of the blend and is nicely balanced by the addition of 10% Cabernet Sauvignon, 10% Garnacha Tintorera and 5% Syrah each of these bold varietals adding more layers of complexity, aromas and power to the wine.
II. DELICATE AGING: Realizado is all about having the best of youthful fruit and the lusciousness of a delicate ageing. After careful grape selection and vinification of the grapes separately, it was important for us to continue to allow each varietal the opportunity to develop independently. Each varietal were delicately aged in new French oak barrels of 300 - 500 litres for 14 months. We took our time to go through each barrel individually to carefully select which would go into the final blend you now can enjoy as Realizado.

III. BRIDGING THE GAP: Let´s be honest, when looking at our Yecla Monastrell collection we found that we were missing an important bridge between our youthful La Nymphina Monastrell and our powerhouse Trenza Family Collection, an important category of wine in between, that allows the consumers to enjoying growing their tasting palate and love of the Monastrell with us. Winemakers, David and Jonas Tofterup, have enjoyed putting together this wine, a creative union that is symbolic of their childhood dream and represents their desire to continue on this winemaking adventure together with all of you.

We thank you Sales Force and we hope to make all your jobs a little easier by provided you with all you will need to be more successful. Included in this section you have downloadable logos, product specification sheets, bottle images and POS merchandise. We will continue to update this section with new material, so do not be a stranger to us!

Please remember is a place for you, so if you have any suggestion as to what could be of more help in your market, please feel free to contact us at bodegas@bodegastrenza.com
See you in the Market!
Downloadable files
Product Specifications
Product Picture
Logo
Awards and Announcements