La Nymphina Monastrell 2017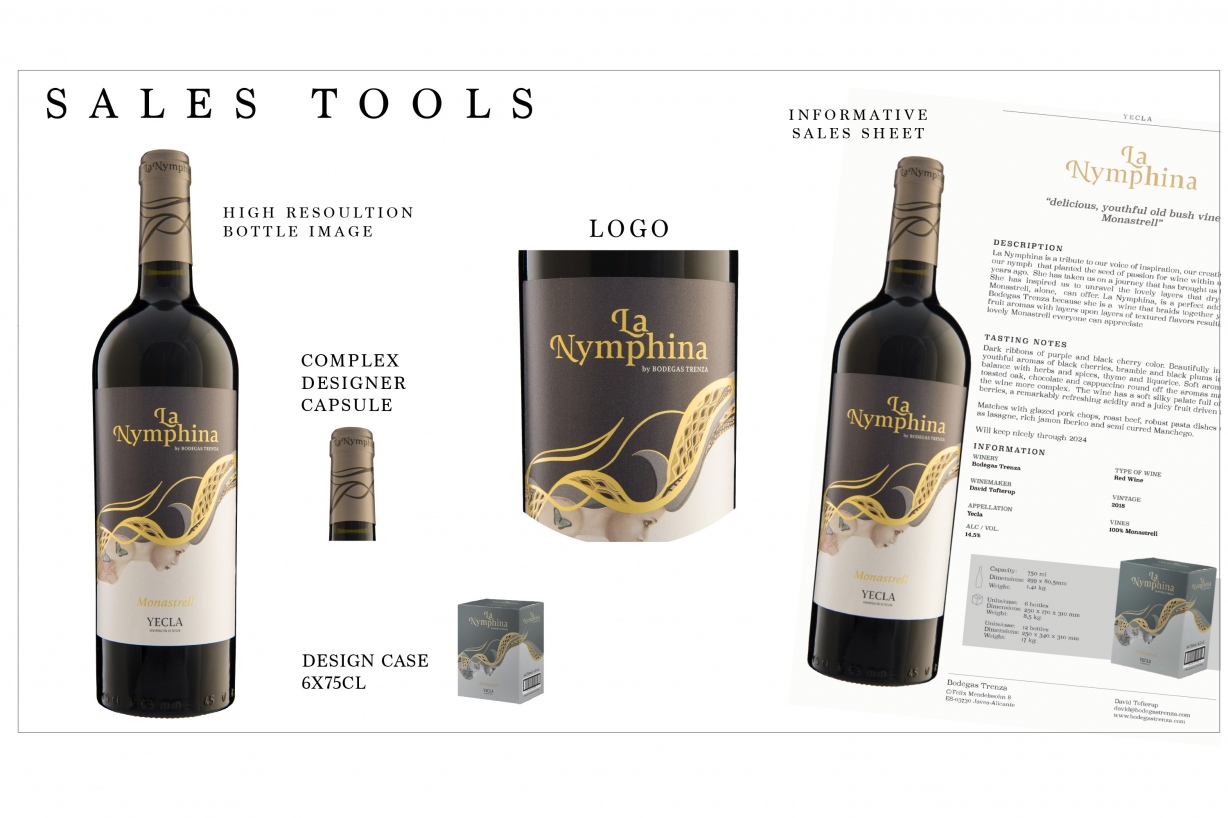 Let Bodegas Trenza help your sales succeed with La Nymphina!
Bodegas Trenza has created this very important section of our webpage for the hard working Sales Forces out there, dedicated to introducing La Nymphina Monastrell to the World. Without them, this youthful, flirty wine would never reach the public. When telling the story of La Nymphina Monastrell, it is always important to remember the THREE KEY TALKING POINTS:
I. OUR MUSE: La Nymphina Monastrell is a tribute to the muse within us. She is the gentle voice of inspiration who has encouraged our winemaking brothers to each follow their unique paths in the wine world and who has now guided them back together, reminded them of a shared dream in their youth and a 20 year old promise to make wines together. La Nymphina Monastrell has fused these two brothers making their childhood dream a reality.

II. YOUTH: La Nymphina Monastrell is about youth; the youthful dreams of two brothers exploring the youthful spirit of the Monastrell together. Monastrell is a very powerful grape that give full bodied powerful wines. What we have tried to accomplish with La Nymphina was to capture a softer side with more youthful fruit aromas and flavors.

III. MONASTRELL: Rizado is all about the Monastrell grape variety. The vineyards are an amazing sight when the beautiful clusters of small black grapes dangle from these old un-graphed Monastrell vines. These 50 year old vines yield less than 1 kilogram per vine, meaning that the clusters are packed with intense aromas of black cherries and sweet ripe plum. Rizado is a Monastrell in all its glory.

We thank you Sales Force and we hope to make all your jobs a little easier by provided you with all you will need to be more successful. Included in this section you have downloadable logos, product specification sheets, bottle images and POS merchandise. We will continue to update this section with new material, so do not be a stranger to us!

Please remember is a place for you, so if you have any suggestion as to what could be of more help in your market, please feel free to contact us at bodegas@bodegastrenza.com
See you in the Market!
Downloadable files
Product Specifications
Product Picture
POS Materials
Logo
Front Label
Awards and Announcements