La Orphica Monastrell Selección Tardia: velvety texture with luscious jammy fruit
"Entrancing dark fruit aromas that will capture and hold your interest until the last drop!"
La Orphica Selección Tardia unlocks the mystical nature of the Monastrell grape. Left to ripen on the vines an additional three to five weeks, our selection of Monastrell clusters have begun to raisin on the vines and within them lies the natural sweetness that will round off the big tannins normally found with this varietal. You are given a bold and mystical Monastrell that will coat your palate with velvety softness and dark luscious fruit.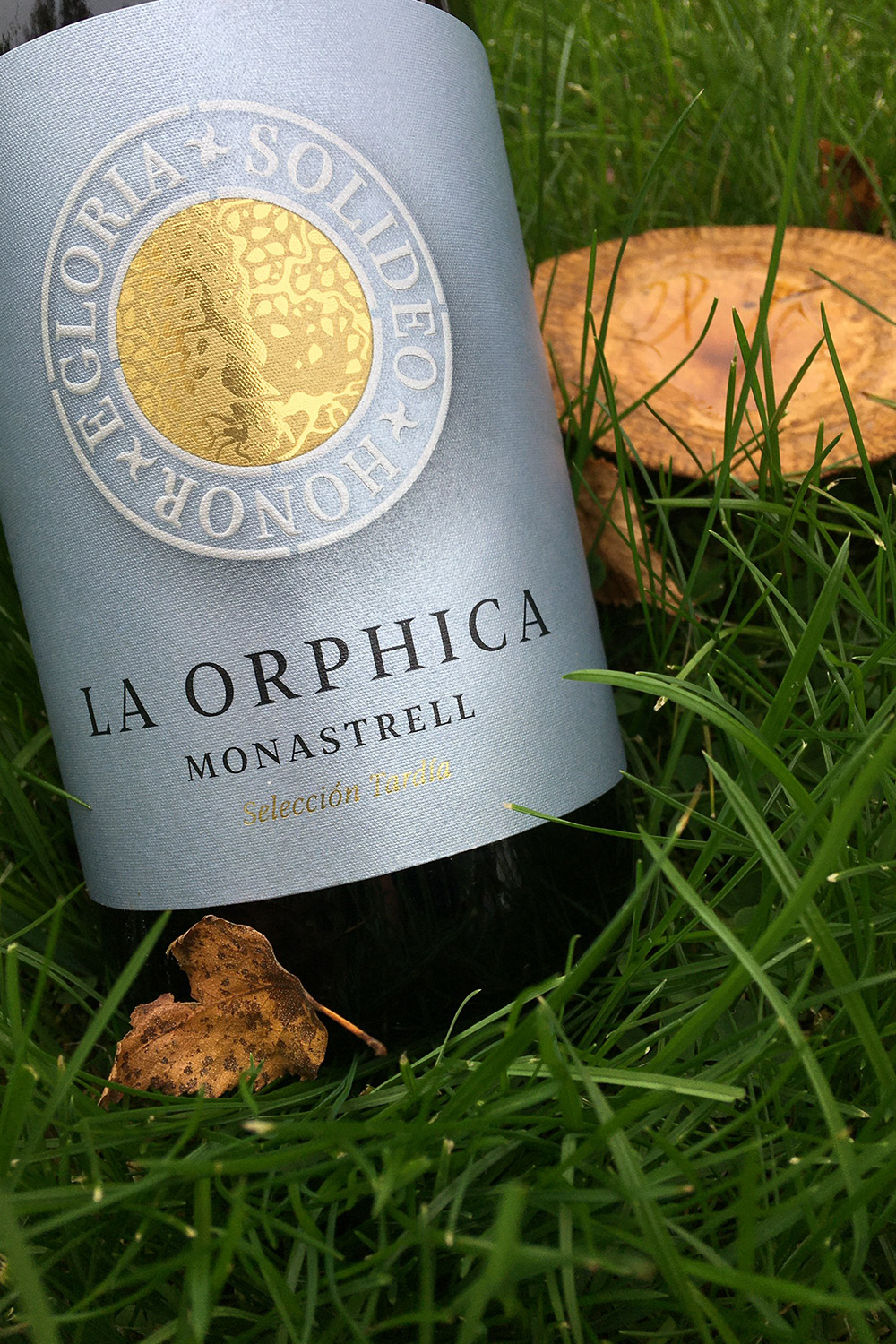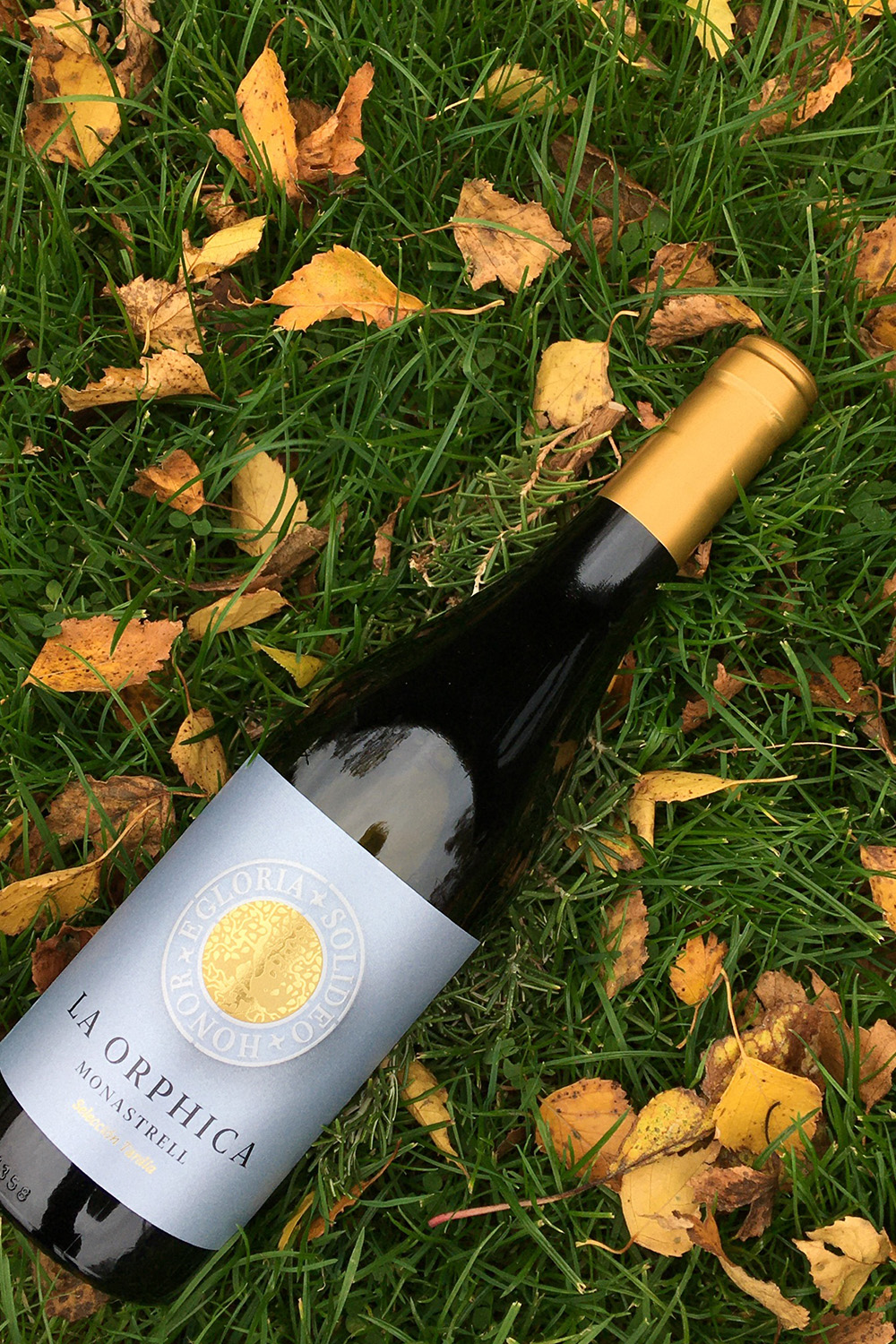 Dry Farmed Monastrell The first records of the Monastrell varietal was found 500 years BC in the subregions of Valencia, Spain. In present time, the Monastrell continues to thrive in Spain, settling its roots in the South Eastern regions of Spain. These areas where the Monastrell thrives have long hot dry summers days and a drop in evening temperature allowing for the grapes to ripen slowly throughout the months of July, August and September. With the additional time we give to these select Monastrell clusters we have allowed for a raisin effect on the vines enriching and concentrating the natural qualities.
Tasting Notes
Clear ruby red with attractive youthful notes of ripe plums, cherries, fresh crushed herbs and a hint of sweet spices. The palate is mellow with soft ripe tannins with a gentle natural sweetness which is balanced with a fresh acidity and a juicy finish. The wine will keep nicely 3-4 years from vintage.

"Mostly drink Spanish wines. I have never experienced such distinct cocoa and coffee notes. A great surprise and a change from the otherwise strong Spaniards." 5 out of 5 stars, Wine Consumer, Blackdog, Germany

"For me the perfect wine for evenings with friends and acquaintances." 5 out of 5 stars, Wine Consumer, Julian, Germany
"The Primitivo comparison lured me and yes it looks like an Italian, but with enough Spanish charm! Fruity, spicy and very harmonious! 5 out of 5 stars, Wine Consumer, Rainer H, Germany

Food Pairing:
Matches perfectly with rubbed herb and garlic pork chops, grilled well seasoned steak, roasted duck or turkey, chicken-mushroom risotto and it also drinks nicely without food.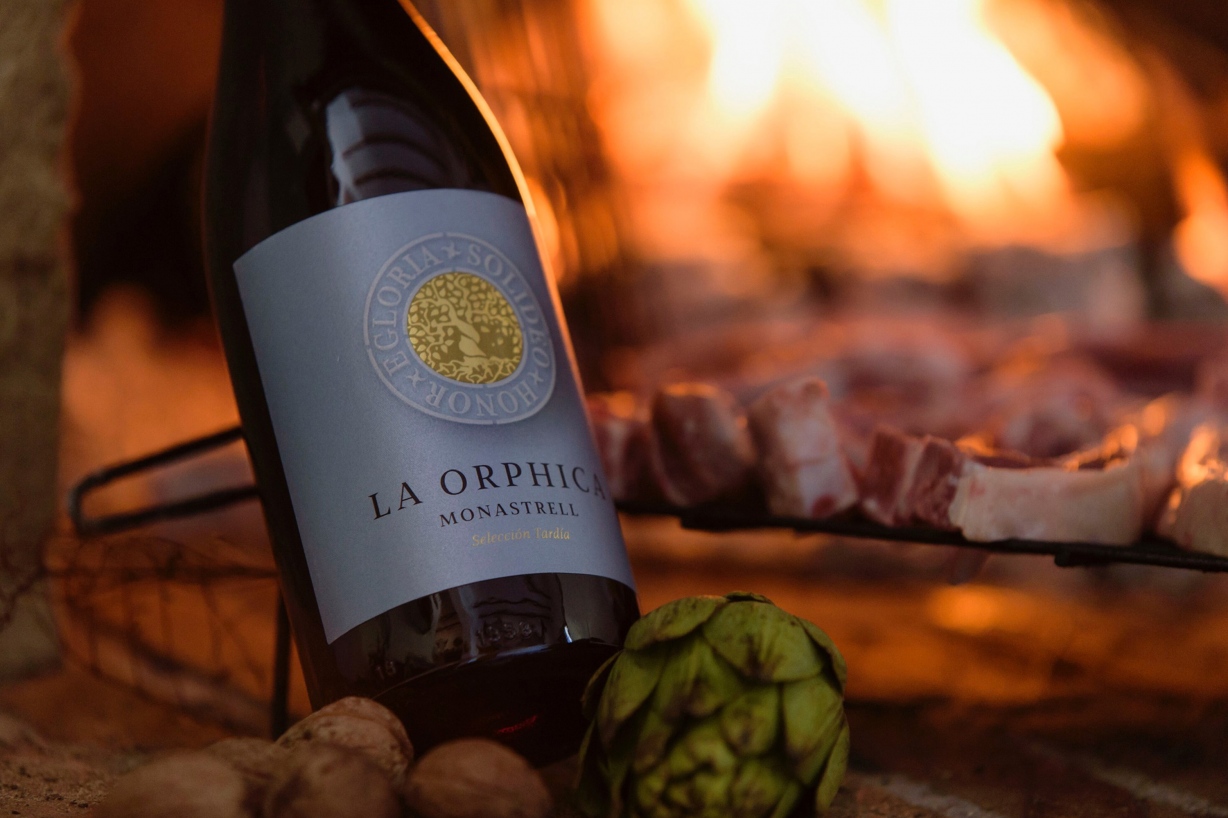 Winemaking Notes
Winemaker: David Tofterup
The grapes were handpicked last week of October through beginning of November once the grapes began to raisin on the vines concentrating sugars and flavors. We did a gentle de-stemming of the slightly dehydrated grapes and then they were inoculated with selected yeasts. Fermentation took place in temperature controlled stainless steel tanks where the musts were periodically gentle pumped over during fermentation and maceration. After fermentation the wine was racked and the skins were pressed. During this stage the raisin-grapes release traces of unfermented sugars in the wine giving it the unique off dry character.
The wine was aged for 3 months in used French and American oak casks
Awards
Silver - Mundus Vini - 2022
90 points - Guia Peñin - 2021
Vineyards:
We are very selective about the quality of grapes that we work with at Bodegas Trenza. We value the old dry farmed Monastrell vineyards we have found expanding across south-eastern Spain. The yields are reduced thereby resulting in grapes with outstanding potential from the start. For La Orphica-Seleccion Tardia, we have chosen to use the quality clusters we found from vineyards at an elevation ranging from 600-800 meters above sea level for this project.
"As a winemaker I love seeing the very first signs of life in the vineyards. The little green buds, springing to life on the vines, immediately brightening up the brown scenery. Seeing this gets me really excited and energised about each new harvest"
Packaging:
La Orphica Seleccion Tardia is an elegant label with a heavenly light blue color. Pearlized paper nicely reflect light capturing your attention. The circular logo with the vine of life becomes a focal point on the label with an elegant use of gold on gold stamping and embossed text give depth and texture to the label and is a promise to the quality of wine within. The standard packaging is a golden-green coloured burgundy bottle weighing 1,2 kilograms full. The bottle is capsuled with personalised gold foil that is 100% recyclable unlike other capsules. We are only one of a handful of wineries who have switched and are willing to invest in this environmentally conscious capsule.