La Orphica Selección Aurora
"You get a delicious blend of only the most tantalising white grape varieties"
What you can expect from La Orphica Selección Aurora is entrancing tropical fruit aromas that will having you dreaming of paradise and and zesty, refreshing finish that will have you milking the bottle for the last drop!
La Orphica Selección Aurora captures the essence of four amazing grape varietals: Viura, Verdejo, Sauvignon Blanc and Moscatel. They are blended together to play off each-others strengths and together they release explosions of harmonious aromas and flavours that flicker and dance across the entire palate. In true Aurora style, this white wines is exciting and a natural treat to you senses.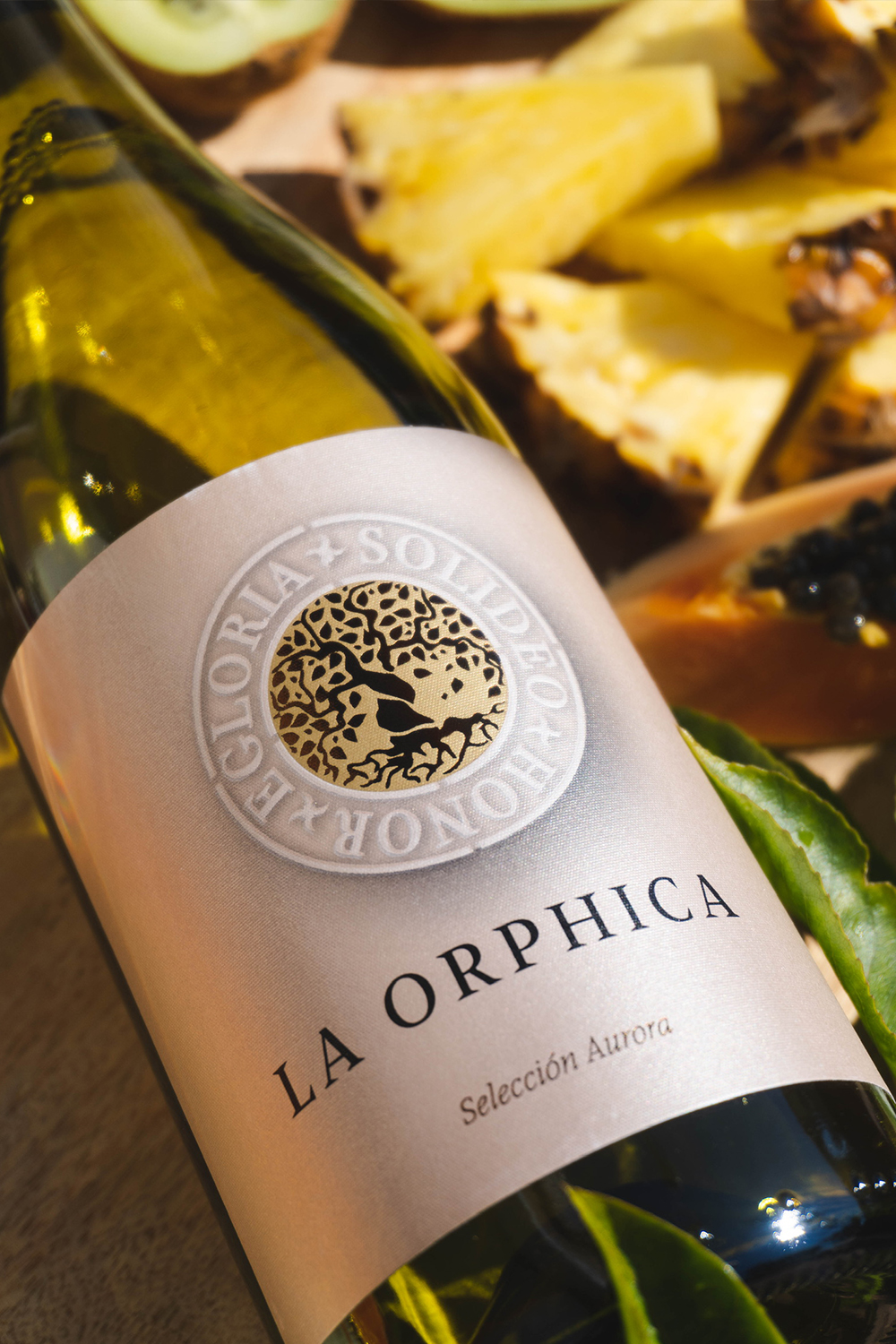 Elegant Blend of Four Amazing Grape Varietals
Macabeo A Spanish grape grown throughout Spain and in Also known as Viura in some parts of Spain.
Sauvignon Blanc One of the world's most popular grapes today and is grown in all corners of the world. Best known for the crisp wines of Sancerre and Marlborough.
Verdejo is Native to Spain where is it virtually only grown. Verdejo takes its name from the Spanish word "verde" (green), because of the colour of the bloom on its grapes. It is a vigorous and drought resistant grape, so very suitable for dry-farming on the dry mesetas of Spain. The grape expresses itself quite similar to Sauvignon Blanc, thanks to its light body, crisp acidity and notes of peach and fresh tropical fruit.
Moscatel Historically one of the most popular and highly regarded grape varieties thanks to its ability to make outstanding sweet wines and intense fragrant of ripe peaches, tropical fruit and orange blossom. It is mainly grown in Italy, France, Greece and Spain, but is found in most winegrowing countries around the world. Today it is still used for sweet wines as well as used as a blending partner in white wines to add floral and tropical aromatics.
Tasting Notes
Bright lemon-yellow colour with attractive and youthful notes of lime, grapefruit, ripe peaches and orange blossom. The palate is soft and easy drinking with a refreshing finish. Best to drink within 2-3 years of vintage

"What an amazing white wine. Only three words to describe my feeling: we want more! " 4.5 out of 5 hearts, Wine Consumer-Naked Wines: Mark - UK

"Delicious, smooth and refreshing, thoroughly enjoyed this wine!" 5 out of 5 hearts, Wine Consumer-Naked Wines Rachel, UK
"This has become an essential wine to have stocked up. Everyone we share it with loves it!" 5 out of 5 hearts, Wine Consumer-Naked Wines James, UK

Food Pairing:
The wines drinks nicely without food, but also matches perfectly with light snacks such as cured ham, salted almonds, olives, asparagus, grilled octopus, BBQ sardines, grilled white fish and garlic fried prawns.
Winemaking Notes
Winemaker: David Tofterup
The grapes were harvested at different stages starting end of August through mid-September at the early hours of the morning when the temperatures are low and the grapes themselves are chilled. Harvesting in these conditions allow for the grapes to preserve their natural aromatic characteristics offer and very expressive aromatic wine once bottled. Each grape variety was vinified separately. The musts (only free run) were settled and racked before the fermentation using selected yeasts. The temperature is controlled, maintaining it at 13-16ºc throughout the fermentation in stainless steel tanks. A youthful and refreshing wine ready to enjoy once bottled.
Awards
Silver- Mundus Vini - 2022

Vineyards:
We are very selective about the quality of grapes that we work with at Bodegas Trenza. We have found interesting pockets of thriving vineyards expanding across 3 small villages within Spanish Mesetathat make up La Orphica Selección Aurora. The the vineyards are all located near the Jucar River, and the majority have the characteristic river stone soils resulting in a nice minerality that adds a bit more depth to the flavour profile.
"As a winemaker I love challenging preconceived ideas and what I set out to do with Aurora is to show you that quality or prestige is not only achieved with a single varietal wine. The experience you will have with Aurora´s white wine blend is indeed a high quality, Spanish experience. One that combines and enhance the quality and impact of Spanish white varietals in a powerful blend. "
Packaging:
La Orphica Selección Aurora is an elegant label with a heavenly white gold color. Pearlized paper nicely reflect light capturing your attention. The circular logo with the vine of life becomes a focal point on the label with an elegant use of gold on gold stamping and embossed text give depth and texture to the label and is a promise to the quality of wine within. The standard packaging is a golden-cinnamon coloured burgundy bottle weighing 1,2 kilograms full. The bottle is caped off with a gold screw cap.