Trenza Family Collection a dream made a reality
"A handcrafted Monastrell blend that tells our unique story and shows our deep passion for wine."
Trenza Family Collection a dream made a reality. An opportunity for us, as brothers, to create an amazing old vines Monastrell. Something special that braids together our individual styles and experiences, fusing it into a beautiful wine with great personality, complexity and uniqueness belonging only to us. This is a crafted Trenza that truly reflects the fruit, the terroir and the great potential of the denomination of origin, Yecla.

"We continue to be thrilled with the results we have achieved with the 2019 Trenza Family Collection. Each new year we work hard to create intricate layers where each of three grape varietals braid nicely together offering bold aromas and delicious flavours with every swirl of the glass. This is a wine that will age nicely so time in the bottle will allow the wine to reach it full potential." Jonas Tofterup MW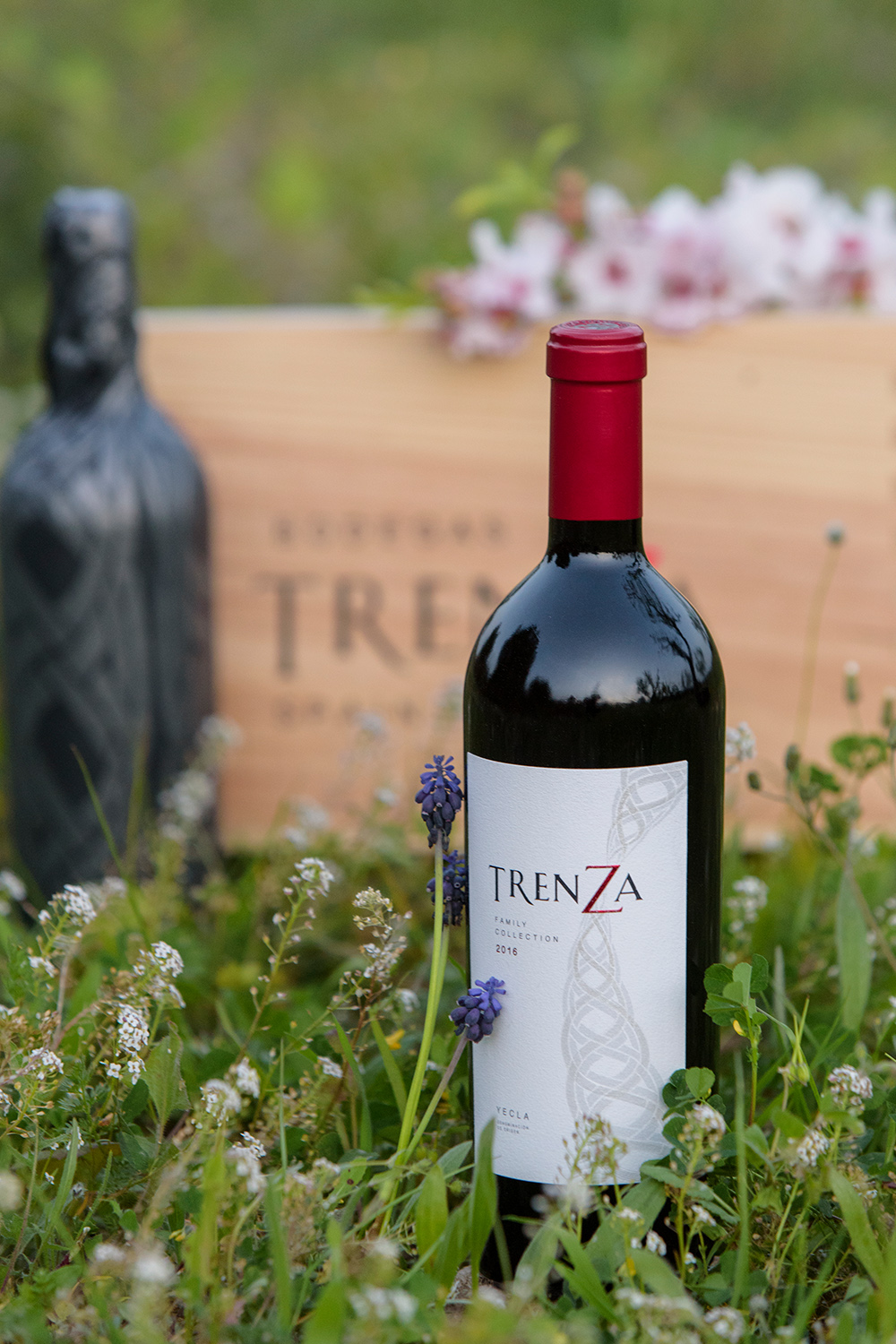 Monastrell 73%, regardless of what it is called, is often the hidden secret behind a quality GSM blend (Grenache-Syrah-Monastrell). It is a grape variety that is best known coming from the premium wine regions however, with all the glamor that these regions offer, Monastrell is indigenous to Spain. The Monastrell thrive in Spain, and it can be quite a productive variety, but yields are naturally kept low due to the age of the vines which are dry farmed. The vines yielding tiny, thick skinned and very intensely flavored grapes rich in sugar at the time of harvest, resulting in wines rich in fruit, high alcohol and lots of soft tannins, giving the wine the structure necessary for it to age well. The wine produced from the Monastrell grape tend to have intense fruit with aromas reminiscent of black cherries, plums, and hints of game.
Cabernet Sauvignon 14% This Bordeaux grape is arguably the most well-known variety in the world. Cabernet Sauvignon adds lots of rich black fruit flavours and soft ripe tannins to the blend, creating an even more complex wine.
Garnacha Tintorera 13% This is one of the few varieties in the world when have a red pulp, creating opaque ruby colored wines. Apart from color, this fascinating grape gives refreshing acidity and refreshing berry fruit flavours to the blend, creating deeper and more ageable wine.
Tasting Notes
Opaque ruby red with thick legs. Deep and dark aromas of blackberries, black cherries, ripe plums combined with a rich mixture of Asian spices, toasted oak and cigar box. On the palate the black fruits are intensified by the complimentary notes of rich chocolate, toasted oak and cappuccino. The wine is full bodied, filling your mouth with lots of ripe tannins and juicy fruit. The wine has a long lingering finish. The wine will keep nicely throughout 2035.
"The eyes grow big with the deep red, the nose fits perfectly and the palate confirms the other senses with pure joy. Pure opulence in the glass!" 5 out of 5 stars, Wine Consumer, Monty, Germany
"... almost black, a real "mouthful" wine, complex, tannic, almost astringent. All attributes ... dark red ripe fruits, wood, vanilla, tobacco, mineral notes, etc., which apply to many wines, are strongly represented here. It's just not soft and easy to drink, but a real heavyweight. Great wine !! .... my current favourite." 5 out of 5 stars, Wine Consumer, Rolf B., Germany
Food Pairing:
Trenza Family Collection 2019 is a wine that will pair nicely with pork spare ribs, roasted duck, lamb with a rosemary and thyme rub, ossobuco stew, rare sirloin steak and venison.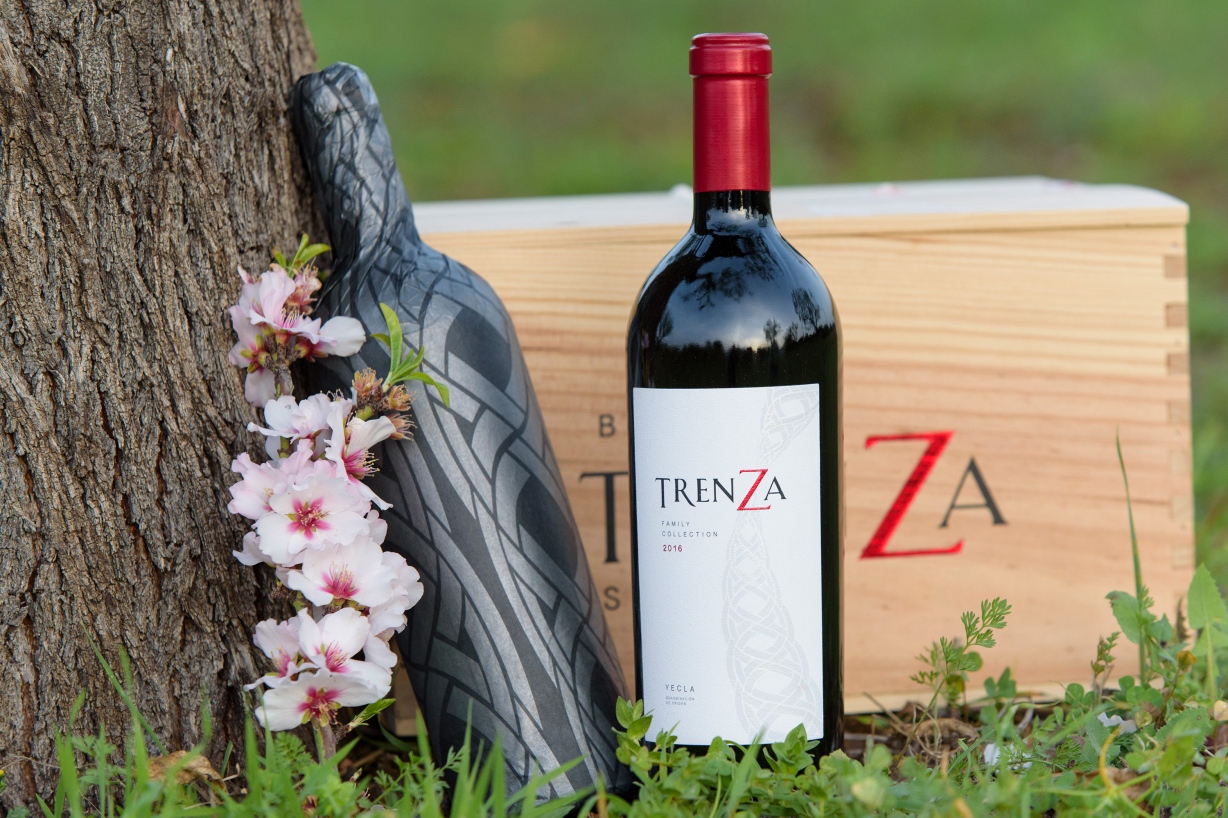 Winemaking Notes
Winemaker: David Tofterup
The grapes were manually harvested in small cases of 15 kilos from 17 September to 10 October 2019. Each variety was vinified individually by chilling the whole clusters for 24 hours before a gentle de-stemming. 15% of the must was drawn off to concentration colour and flavours. The grapes were cold macerated for 72 hours at 5ºC before fermentation was initiated. The must were manually pumped over and punched down several times daily during the 16-25 days of fermentation and maceration. The wine was racked to large new French oak barrels of 500 litres where it underwent malolactic conversion. The wine was aged for 18 months before it was bottled with a light filtration in November 2021.
The 2019 vintage is a beautiful blend of 73% Monastrell, 14% Cabernet Sauvignon and 13% Garnacha Tintorera. It resulted in a dry wine with 15.0%vol alcohol and a total production of 8232bottles & 700 magnums of this euphoric wine.
Awards
Gold Berlin Wine Trophy 2023
92 points Guia Peñin 2022
92 points James Suckling 2022
90 points Wine Enthusiast 2022
91 points DinVin Guia June 2020

Vineyards:
The grapes come from carefully monitored and selected vineyards in the inspiring wine region of Yecla. The dry farmed vineyards are up to 52 years old and are all located in the high altitude zone of Campos Arriba that reaches 850 metres above sea level. We value the old vineyards where the yields are reduced thereby resulting in grapes with outstanding potential from the start. For Trenza Family Collection 2019 we have chosen to use the quality clusters we found in a northern part of the zone with a total of 5,6 hectares yielding and average of 13 hl/ha.
"We believe that with the grapes we have chosen to braid together, we have taken the best characteristics that each variety has developed and have created a strong Trenza with great personality, complexity and uniqueness." David Tofterup, winemaker
Packaging:
2019 Trenza Family Collection was release in Spring 2021. Sporting a more classic style the label is a thick cotton white paper (120g/m2) There is a discrete use of red stamping in order to draw attention to the Z that has become symbolic to our winery. The braided Trenza logo in the label is a combination of embossing with a pearl shine. The standard packaging is a heavy conical bordeaux bottle weighing 1,72 kilograms. Each bottle is wrapped with black silk-paper with the braided Trenza logo in a slight grey tone. We have created a designer wooden box of 6 stamped with the complete Bodegas Trenza logo.